Mother's Day Promotions
Hello Everyone,


I hope that you enjoyed some sunshine this weekend. Please accept my sincere apologies for not emailing this morning about the Mystery Monday Promotion. If you were able to watch the video that is on our Facebook Page then you saw the promotion this Monday is actually going to be in effect until next Monday. Also, I am concerned about sending out to many emails to you and do not wish to overstep with sending too much communication. Therefore, I have decided that I will post the Mystery Monday Promotions on both Facebook and Instagram along with the Monday code. If you still prefer to be notified by email, I will happily do so. Please just send me a message to info@watergirlquiltco.com
So Mother's Day is approaching. If you have a special woman in your life that sews, we have 2 promotions that you may be interested in. Also, please remember that you may also forward this email to a family member asking you what they could give you for Mother's Day. I've already had a few people reach out to me to help with selecting a gift for their mom, grandma, etc...
We will add on delivery to the recipient. Please check with us first for the cost as it will depend on the distance. We are wiling to deliver between Ottawa and Kingston. We can also ship expedited post by Canada Post to anywhere in North America. At your request, we will include a complimentary card with your message written inside. Just email or call us for that service.
You might also wish to set up your gift registry on our website and I'm happy to guide you through that over the phone.
So we have two items, made up especially for Mother's Day. Both are ten percent off with the code LOVEYOU10.
First, send a bundle of flowers with Hollies Flowers by Stof
12 Fat Quarter Bundle
. You will receive 5 fat quarters of Hollies Flowers, 2 fat quarters of Colorworks Solids, 3 fat quarters of Canvas Blenders and 2 fat quarters of Dublin Blenders. This 12 Fat Quarter Bundle has a retail value of $39.00.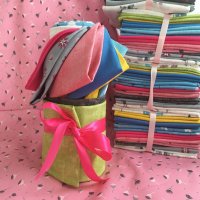 Second, we have a pattern and background kit available that will compliment the Hollies Flowers Fat Quarter Bundle. The
Shards Pattern with Michael Miller Fabric
kit would allow the recipient to make a bright and cheerful lap quilt. The Pattern with Background Fabric is an additional $62.00
Both items are eligible for the 10% off discount from May 4-11th while quantities last.
Happy Mother's Day to the mothers, grandmothers, step-mothers , caregivers and special women who bring strength and kindness to others.
Michelle @ Watergirl Quilt Co.