August News & Mystery Monday Promotion!
Good Morning Crew!


Well it is a wet one in Eastern Ontario this morning but we love water! A great morning to stay inside and make creations with fabric!


And do we ever have fabric!


There is new fabric arriving every few days now so be sure to keep an eye on our Facebook, Instagram, web site and/or just drop into the store. Did I say drop-in? Yes that is right! Now that we have been open a few weeks and are comfortable with the necessary routine of store cleaning for Covid-19 precautions, we are able to extend and relax the store hours.

Effective Monday, August 3, 2020 our new hours are the following:


Tuesdays through Saturdays we are open in-store from 9:30 am to 4:30pm for in-store shopping.


Thursdays only: You may book an appointment or drop-in. We are offering 2 appointments all day, on the half hour. Example: 9:30 am - 10:15 am, 10:30 am to 11:15am with the last appointment being 3:30pm to 4:15pm. This leaves space for 2 drop-in customers as well. If the appointments are not booked, more drop-in customers may enter the shop.
We are offering this day of appointments becauase we have many customers who drive from far away and want to know that they will not have to wait if the store is at capacity.

Of course, you may do in-store and curb-side pickup of your online orders, Tuesdays through Saturdays, 9:30 am to 4:30 pm.

So today is Mystery Monday! Can you believe it has been a whole month since our last one? Today, we have fabulous bundles of Radiance Shimmer Blender by Northcott. These luxurious fabrics either have a gold or silver speckle of metallic in them and will colour match any of your Northcott fabrics. All bundles were cut in our store. We brought these in as a one time deal. At this time, we do not intend to restock this item, so get it while it's hot!

Here is a sneak peak of what you will see on the Facebook live this morning at 9am or on the replay at your convenience.




Don't miss out! Shop online now!

New Arrivals of Fabrics, Notions and Patterns

Phosphor by Libs Elliott. This Canadian designer has created another hit for Andover Fabrics with this stunning blender fabric. Arriving on Wednesday, August 5th. Lots of great ideas for this fabric on Instagram and Facebook. Look up #phosphorfabrics Shop Phosphor Collection




Spirit of the Garden by Kelli May-Krenz. Kelli has designed a whimsical, fairy and garden inspired collection for Free Spirit Fabrics. The fabric has a silky feel and there are two free patterns available for this collection over at the Free Spirit website. Browse Spirit of the Garden This is on my design wall right now!




Speckled by Rashida Coleman-Hale. This pretty fabric from the Ruby Star Society for Moda makes a lovely accent for your totes, bags and pouches or as a pop in a quilt! Available in 7 colours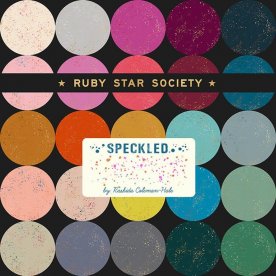 Get your Christmas Fabric! We have several collections for the holidays. Already arrived are Dr.Seuss the Grinch Who Stole Christmas advent calendar and coordinating fabrics, Season's Greetings by Liberty UK, Very Merry by Kim Schaafer for Andover, Wintertide by Figo Fabrics and Wool Ewe?

See all of our holiday fabrics here and keep watching for more collections: Deer Christmas by Urban Chicks, Chill by Zen Chic, Mochi Linen by Zen Chic and a few other surprises. We have fat quarters available for all collections.




We still have a few spaces left for the workshop of Christmas In July with Susan Madu of Modern Blended Quilts. This workshop will take place via Zoom, in the comfort of your own home. The sample quilt and supplies have arrived in the store, so if you are local, you may drop by to have a closer look, or schedule a video appointment with us. Find the workshop registration and supply kits at our web site. Registration deadline is August 11th.




New Patterns and Notions: Check out the raw edge applique patterns by Sew Quirky and the Laser Cut kits for raw edge applique. An easy way to start to make applique projects if you have been hesitant to explore applique. Try these new patterns now! There are budgie birds, cats, dogs and sewing inspired themes.

Our English Paper Piecing collection has grown immensely and we can now put together a learner's kit for you. EPP is such a relaxing, mediative kind of sewing that you can take with you anywhere you go.

Lastly, please remember that you are able to join the Aurifil Thread Club subscription at anytime. Details can be found here.

We have been thrilled to be able to fill your special orders and love having your requests for notions and patterns. We are currently developing a workshop lineup for autumn as well as monthly subscription clubs. We would love to hear your ideas. Just email us at info@watergirlquiltco.com

Thank you for choosing to shop with us. Our staff are really having fun serving all of our customers both online and in-store.

Have a wonderful week of crafting and please know that at Watergirl Quilt Co., your Canadian quilting destination, we are here to serve you well on your creative journey!

Stay safe, stay hopeful and do something that makes you smile!

Michelle and the Watergirls