Skip Navigation
Website Accessibility
Bundles of Joy at Watergirl Quilt Co.
Hello Crew!
If you were watching our Facebook live video this morning then I bet you are excited for noon today when our Mother's Day Promotion starts!
This year, treat yourself or a Mom to an afternoon of quilting. The Shower Her With Flowers bundle has been carefully curated by Watergirl Jackie, so that you are ready for a relaxing project. In the durable vinyl pink totebag, you will find the pattern, fabric and batting needed to complete the Sew Square table runner pattern. All you have to do is cut the pieces for the runner top and start sewing. The backing and batting pieces are already cut into the correct size for you. Thank you, Watergirl Debbie! We also included a package of flower head pins because it is important to periodically replace your pins. They do get dull and that isn't good for the fabric.



When you purchase this $58 bundle, you receive a complimentary copy of the book Sew Outdoor by Debbie Shore (retail value of $22.97).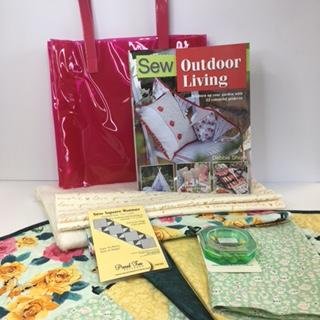 Add on a gift card and you can plan your next project! Perhaps, some outdoor placemats from your new book of patterns.

Buy a $100 gift card, receive $125
Buy a $50 gift card, receive $60
Buy a $25 gift card, receive $30

Gift card promotion ends on Friday, May 9th at 11:59pm. Shower Her With Flowers bundles are there while they last!

Shop Mother's Day Promotions

Woohoo!!!! Start the car! No, don't do that. Stay home, stay safe and shop online! We've got you all sorted out for this Mother's Day.

Stay safe, stay hopeful and do something that makes you smile!

Michelle and the Watergirls Staff



P.S.



Join us for a complimentary Mother's Day "Sit and Stitch" on May 9th from 11am to noon EST and we can take time for ourselves as Mom's and Quilters. Space is limited to the first 99 participants who enter the Zoom. Waiting room will open at 10:45am. The invitation is below:



Michelle Peters is inviting you to a scheduled Zoom meeting.





Topic: Mother's Day Sit & Stitch with Watergirl Quilt Co.




Time: May 9, 2021 11:00 AM America/Toronto





Join Zoom Meeting




https://zoom.us/j/93579153723?pwd=aGZhY0s1eW5CZlBtNlhFOGxvczVUZz09





Meeting ID: 935 7915 3723




Passcode: 846677