The Quilter's Planner 2022 Pre-Sale Starts Today
Good Morning, Crew!
Let me start by saying that this is the BEST MONDAY EVER!
Why?
It's because I have the pleasure of sharing big news with you.

Do you love your Quilter's Planner? Have you ever dreamed of buying one or maybe you stopped buying it because of having to purchase directly from the USA? Or perhaps you have never heard of it until now.


Here is the exciting news...

The Quilter's Planner is helping us to make it easier for Canadian quilters to get their 2022 planner. Watergirl Quilt Co. and the Quilter's Planner have partnered so that you will be able to order your planner from Watergirl Quilt Co. directly and not have to pay the international shipping rates and duties by ordering it from the American website. Not only will it be easier and less expensive for you, you will also be supporting a Canadian small business too when you order through us.

We will be able to offer you 4 different decorative covers for the planner and 2 different calendar layouts. You can start your weekly planning on Sunday or Monday. Your choice.

The Quilter's Planner is a year long, daily calendar with a month at a glance page and a weekly planning page. There are also pages with quilting patterns, quilter's reference cutting charts, tutorials, graph paper and tracking pages for designing and planning quilting projects. If that isn't enough there are many free add-ons at the Quilter's Planner website. For those of you who are already fans of this not-to-be-quilting-without-it tool, there is a new addition to the planner for 2022.




The 2022 planner will have a page each month for goals, self-reflection and gratitude. What wonderful ways to pause and take time for ourselves, to be better organized and to celebrate our accomplishments. You work hard on your quilts and this is a great way to document all of your creativity and effort. Check out this detailed description * to learn about all the features that will be included with Your Planner.

You will also find great resource sheets for planning and designing your quilts along with 2 pages for tracking your progress. Did you like getting gold stars on a chart when you were a little kid in school? I felt so proud of those moments and this planner is kind of like that. But you give yourself the stars!

Not a calendar person but you want a book to design and keep a record of your projects? Here is the second exciting news!

There is a new book for 2022 and Watergirl Quilt Co. has it for your to pre-order. It is the Design Book and is essentially the same book as the Quilter's Planner minus the calendar portion. Why is this useful? Well, there no dates so the book can be used forever, or until you use up all of the pages :) We have two cover options for you (green or blue with great designs).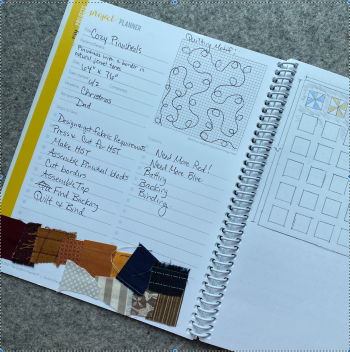 So how do you get these motivating books? Well, head to our Pre-Order page and place your orders by August 31st to be guaranteed that you get the choices you want. The planners and design books will ship to us late autumn and then you can pick yours up at our shop or have us mail it to you. You will select which option fits your needs when you place your order. Please note that if you put in-stock items on your pre-order they will NOT be shipped to you until the planner arrives so we do encourage you to make separate orders if you need other things now.

So, here is the icing on the cake...

As we will benefit from bulk shipping, we are able to offer you The Quilter's Planner 2022 for only $95 CDN. If you were to order directly from The Quilter's Planner website, you will pay $94.95 USD with shipping. We will sell he Design Book for only $60 CDN. Perhaps you will want one of each (hint, our free shipping minimum is $150 dollars, perfect to buy one of each books and ship for free).

These make fantastic presents too.

The cake has sprinkles too...

To thank you for shopping Canadian, we will be sending you an invitation to a complimentary Meet n' Greet on Zoom on Wednesday, January 5th, 2022 from 6:30 pm to 7:30 pm EST. All of you who order a planner or design book from Watergirl Quilt Co. will receive this exclusive invitation to meet the 3 Canadian designers who have patterns in the book, and to meet the Quilter's Planner new editor, Lorinda Davis.

What a fantastic opportunity to meet Brett Lewis (Natural Born Quilter), Leanne Parsons (Devoted Quilter) and Christine Splote (Tessellate Textiles), see the quilts that they designed for the planner and learn about effective ways to use your planner to improve your productivity. Learn more about our Canadians and the other contributing designers at this Blog Post.




Are you sold? Are you in? If you would like more information, please watch the recording of our Facebook Live Video to see the planner in action.

Give your self the gift of organization and motivation for 2022 as you plan with your creative side in mind.

Pre-orders go live at 9:30 am EST today.

Be there or be square (had to get in some quilting humour).

Stay safe, stay hopeful and do something that makes you smile,

Michelle and the Watergirls

P.S.

The Quilter's Planner available in Canada and an exclusive Zoom event in January 2022?

Woohoo!!!!

Jump on board, Crew.

*We are unable to sell the add-on purchases that are available at the Quilter's Planner website. These items are: Add-a-page Clip-ins, Elastic Pen Holder, Clip-in Habit Tracker and the Wet Erase Pens. These items are not actually included with the planner, even when you order from the USA directly.