Are you also waiting for the Frenzy to begin this Black Friday?
Hey Crew,
There is enough fish in the sea for everyone and I bet you cannot wait to visit us this Friday and Saturday to catch all of the great deals, both in-person and online.
So the excitement starts at 12:01 am on Friday, November 26th and lasts until Saturday, November 27th at 11:59pm.
What great deals do we have for you?
*Spend $200 before taxes (store wide) and receive a FREE pair of Fiskars Amplify Razor Edge Scissors 10" Blade (retail value of $45.95) while quantities last both in-store and online. If ordering online, please add the scissors to your online cart and then enter the code SHARP at checkout and your scissors will be free!

Quantities are limited and are equally distributed between online and in-store shopping.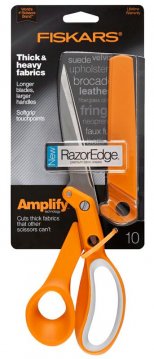 *Half Yard Cuts of designer fabrics, 3 for $25, In-store shopping only

*20% off Flannels

* In-person Door Crasher: One pound of designer fabric scraps (including a variety of pieces 2.5" strips up to half yard pieces) for only $15 each and the Watergirl Staff even curated the colour choices for you.

*20% off Quilt Kits (excludes Tula Pink's Pining For You Kit)

*Take an extra 15% off all Clearance Fabrics, Notions, Books and Patterns including lots of mini-bolts of fabrics


Be entered in a draw for a prize bundle worth $50 retail when you shop online or in-store this Black Friday and Saturday.

Have a great week and get rested up for Black Friday. It's almost here!

Stay safe, stay hopeful and do something that makes you smile.

Michelle, Cathy, Angela, Rhonda, Kayla, and Faith

P.S.

We are working hard to keep adding to the clearance section right up until the strike of midnight on Friday.

Start browsing and making your list and we will be ready to serve up your deals this Friday and Saturday, online, and at our store as well as at our Education Centre at 123 and 119 King St. West, Prescott.




Follow us on Facebook, Instagram @watergirlquiltco or join our Private Facebook group called Share Your Creations.

We thank you for being part of our Crew!